COMPANY PROFILE
Electromagnetics Infinity is a design house specializing in various fields of electromagnetics and simulations.
Over the past 8 years, Electromagnetics Infinity has built a strong track record, providing research, development and engineering services to over 130 companies across industries such as
Telecommunications
Automotive
Military / Defense
Healthcare / Biomedical
Aerospace
Consumer Electronics
Agricultural Technology
The Company Specializations:
Antenna Design
Smart RF / Antenna Systems-Based Design
Electromagnetic & Signal Integrity Analysis
Board Design
Microwave Devices Design
Tx/Rx Chain Development
Full System mmWave Radar Development
Biomedical Signal Processing & Algorithm Development
Biomedical Electromagnetics with Human Body Interaction
Electromagnetics Infinity is also proud to be an Ansys Certified Channel Partner, providing Ansys licenses for simulation software to both companies and academic institutes. This empowers our customers to independently design and innovate, with our dedicated support and training to ensure they maximize the benefits of Ansys software.
OUR MISSION
Providing the most precise and appropriate solution for our customers.
OUR VALUES
Innovative Design Excellence: We emphasize innovative thinking and a dedication to design excellence in our approach to create effective solutions for our clients' projects.
Customer Satisfaction: We place our clients' satisfaction at the forefront, striving to provide solutions and services that consistently meet their needs and preferences.
Passion for Our Work: We approach every project with sincere enthusiasm and dedication, reflecting our commitment and love for what we do.
Respect, Honesty, and Transparency: We prioritize respectful, honest, and transparent interactions with our business partners and clients, building strong relationships based on trust and open communication.
Pursuit of Growth and Learning: Our team is dedicated to ongoing growth and learning, staying informed to provide solutions that embrace the latest trends, developments, and technologies.
VLADIMIR VULFIN – FOUNDER & CEO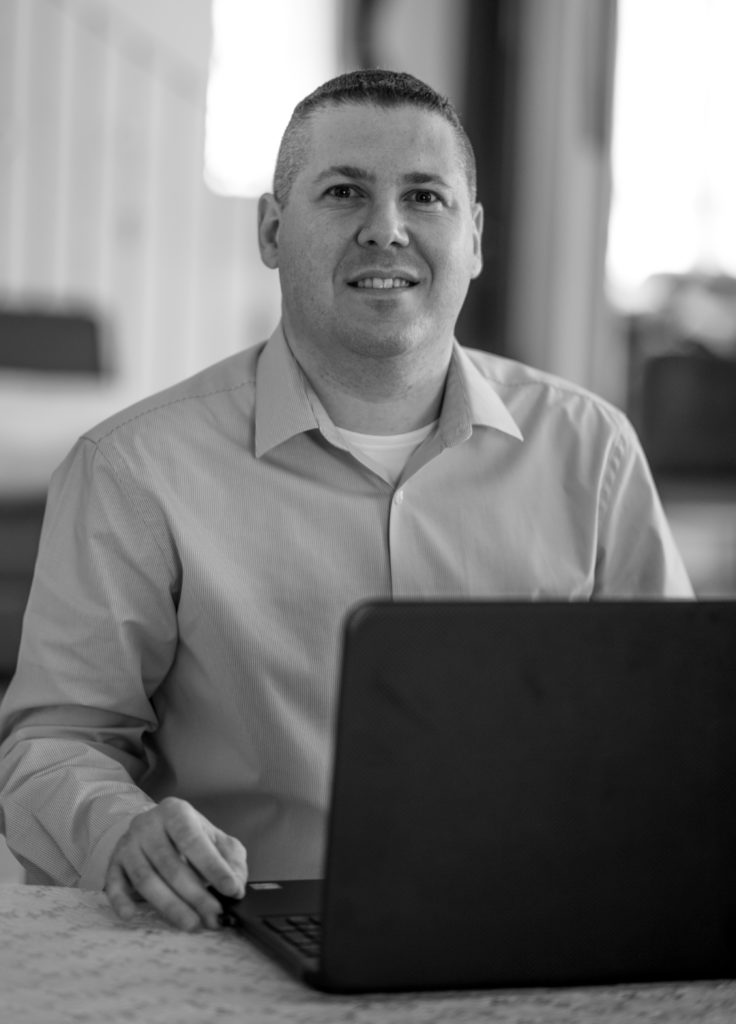 In 2015, Mr. Vladimir Vulfin established Electromagnetics Infinity, where he has been serving as the founder and CEO. He brings with him an extensive background of over 16 years in specialized research and development in electromagnetic engineering and engagement in numerous industry multidisciplinary projects.
Before founding Electromagnetics Infinity, Vladimir represented Ansys Electromagnetic simulation products in Israel, demonstrating expertise in antennas, microwave devices, low frequency, and bio-medical application analysis, characterization, and simulation. He developed new simulation workflows for multi-physics scenarios and provided support for Ansys Electromagnetics tools. Additionally, he offered consultancy, provided courses, and delivered development and simulation services to Israeli companies in the aforementioned areas. His role also included business development, pre-sales, and marketing activities.
Before working at Ansys, Vladimir spent 7 years at a state-owned company as a Microwave & Antenna Engineer in a research and development group. His responsibilities included the design, simulation, implementation, and measurement of antennas and microwave devices, as well as antenna placement and scattering analysis. He also contributed to the development of electromagnetic algorithms, including high-frequency approximation methods.
During this period, over 15 years, Vladimir served as an external lecturer and instructor at various universities and colleges throughout Israel. He guided more than 120 final B.Sc. degree projects for students in Electrical Engineering departments.
Vladimir holds an M.Sc. degree and partially Ph.D. degree, both in Electrical and Computer Engineering from Ben Gurion University, with a specialization in Electromagnetics under the guidance of Prof. Reuven Shavit.
Publications – Scientific Journals and Conferences:
V. Vulfin and R. Shavit, "Surface Impedance Extraction of a Cylindrical Metasurface Structure", The 11th Antenna Symposium, Tel Aviv, Israel, March 2023
V. Vulfin, "Design and Simulation of FSS and Metasurfaces for Antenna Applications", IEEE COMCAS Conference, WirelessApps, Tel Aviv, Israel, Nov. 2021
V. Vulfin, "MIMO-SAR mmWave Imaging Using Ansys HFSS", IEEE COMCAS Conference, WirelessApps, Tel Aviv, Israel, Nov. 2021
N. Verhovsky, V. Vulfin, S. Sayfan-Altman, O. Yannay and R. Shavit, "Phased Array Antenna Design for Hyperthermia Purpose", IEEE COMCAS Conference, Tel Aviv, Israel, Nov. 2021
O. Tutian, V. Vulfin and R. Shavit, "The Quadrature 90° Hybrid Miniaturization at 24 GHz Band", IEEE COMCAS Conference, Tel Aviv, Israel, Nov. 2021
V. Vulfin, "Design of Medical Devices Using Simulation Tools", The 13th French Israel Winter Medical Meeting, The Association Franco Israelienne de Chirurgie Plastique, Peisey Vallandry, France, Jan. 2020
V. Vulfin, N. Verhovski, S. Sayfan – Altman and R. Ianconescu, "An Analysis of the Power Balance in Systems Described by S Parameters", IEEE COMCAS Conference, Tel Aviv, Israel, Nov. 2019
V. Vulfin, H. Leibovich and S. Sayfan – Altman, "Automotive Radar Simulation Flow at 77 GHz Using HFSS FEM, IE and SBR+ Solvers", IEEE COMCAS Conference, WirelessAps, Tel Aviv, Israel, Nov. 2019
V. Vulfin and Y. Kagan, "Sense, Avoid, Act – Principles of Sensing Techniques, Using mmWAVE and Imaging Radar", The 6th Israeli Conference on Robotics, Israel, July 2019
R. Ianconescu and V. Vulfin, "Radiation from Free Space TEM Transmission Lines", Journal IET Microwaves, Antennas & Propagation, July 2019
V. Vulfin and I. Madar "Different Methods of Mutual Coupling Reduction in Planar Antenna Arrays", IEEE / Israel EMC Conference, May 2019
V. Vulfin, N. Verhovski and R. Shavit, "Antenna Array Design for Ablation Applications", Antennas Symposium, Tel Aviv University, Israel, March 2019
R. Ianconescu and V. Vulfin, "Radiation from Quasi-TEM Insulated Transmission Lines", Journal IET Microwaves, Antennas & Propagation, Jan 2019
V. Vulfin, N. Verhovski, S. Sayfan-Altman, and R. Ianconescu, "Efficiency of Differential Receiving Antenna Interfaced to a Three-Port Network", ICSEE International Conference on the Science of Electrical Engineering, Eilat, Israel, Dec. 2018
V. Vulfin "Miniaturized Antennas Design for Communication, Wearable, and Biomedical Applications", IEEE / Israel EMC Conference, May 2018
V. Vulfin and R. Shavit, "Monostatic Super-Scattering Using DNG Metamaterials ", Antennas Symposium, Tel Aviv University, Israel, March 2018
V. Vulfin and R. Ianconescu, "Quasi-TEM Insulated Transmission Line Radiation Losses Analysis", IEEE COMCAS Conference, Tel Aviv, Israel, Nov. 2017
P. Schilingovski, V. Vulfin, S. Sayfan-Altman, and R. Shavit, "Wearable Antennas Design for Wireless Communication", IEEE COMCAS Conference, Tel Aviv, Israel, Nov. 2017
S. Sayfan-Altman, V. Vulfin, R. Ianconescu, R. Heinrich and H. Leibovich, "Lighting Strike Analysis for Drones", IEEE COMCAS Conference, Tel Aviv, Israel, Nov. 2017
V. Vulfin, H. Leibovich and S. Sayfan-Altman, "Design of Electromagnetic Devices in Interaction with the Human Body", IEEE COMCAS Conference, Microapps Session, Tel Aviv, Israel, Nov. 2017
V. Vulfin and R. Shavit, "Radar Cross Section Enhancement Using Metamaterials Technology", IEEE / Israel EMC Conference, May 2017
V. Vulfin, S. Sayfan-Altman and R. Ianconescu, "Wireless Power Transfer for a Pacemaker Application", Journal of Medical Engineering & Technology, Feb. 2017
V. Vulfin and R. Ianconescu, "Simulation and Theory of TEM Transmission Lines Radiation Losses", ICSEE International Conference on the Science of Electrical Engineering, Eilat, Israel, Nov. 2016
N. Shimonov, V. Vulfin, S. Sayfan-Altman, and R. Ianconescu, "Design of an Implanted Antenna Inside the Human Body for a Pacemaker Application", ICSEE International Conference on the Science of Electrical Engineering, Eilat, Israel, Nov. 2016
S. Dan, V. Vulfin and R. Shavit, "Design of Reflectarray Antenna Based on Fresnel Zone Plates with AMC Structure", ICSEE International Conference on the Science of Electrical Engineering, Eilat, Israel, Nov. 2016
V. Vulfin, "Antenna Design Using Periodic Structures", Antennas Symposium, Tel Aviv University, Israel, Nov. 2016
R. Ianconescu and V. Vulfin, "TEM Transmission Line Radiation Losses Analysis", The 46th European Microwave Conference, UK, Oct. 2016
R. Ianconescu and V. Vulfin, "Analysis of Lossy Multiconductor Transmission Lines and Application of a Crosstalk Cancelling Algorithm", IET Microwaves, Antennas & Propagation, Sep. 2016
V. Vulfin and R. Ianconescu, "Non-Destructive Testing (NDT) Sensor Development Using Eddy Currents", 16th Annual Conference of Non-Destructive Testing, Israel, Sept. 2016
V. Vulfin and R. Shavit, "Design of a Directive Antenna with a Highly Effective Aperture, Using Active Frequency Selective Surface", IEEE / Israel EMC Conference, May 2016
V. Vulfin, "Design of Reflector Antennas Using FEM, MoM, and PO", European School of Antennas – ESoA, Beams and High-Frequency Methods for Large Antennas, Tel Aviv, Israel, Dec. 2015
V. Vulfin and S. Sayfan-Altman, "Design of Antennas for Operation in the Human Body", Antennas Symposium, Tel Aviv University, Israel, Dec. 2015
S. Sayfan-Altman and V. Vulfin, "Common-Mode Noise Suppression Using Metamaterials", DGCON Conference, Herzlia, Israel, Nov. 2015
V. Vulfin, "Introducing HFSS Component Model Libraries to Support Enterprise-Level Product Development and the IoT Design Chain", IEEE COMCAS Conference, Microapps Session, Tel Aviv, Israel, Nov. 2015
V. Vulfin and R. Shavit, "Design of a High Gain Open Waveguide Antenna Combined with an Active Frequency Selective Surface", IEEE COMCAS Conference, Tel Aviv, Israel, Nov. 2015
S. Sayfan-Altman and V. Vulfin, "Biomedical Monitoring Using Electronic Capsule", IEEE COMCAS Conference, Tel Aviv, Israel, Nov. 2015
R. Ianconescu and V. Vulfin, "Simulation of Lossy Multiconductor Transmission Lines and Application of an Algorithm to Reduce Crosstalk", IEEE COMCAS Conference, Tel Aviv, Nov. 2015
V. Vulfin and R. Ianconescu, "Transmission of the Maximum Number of Signals Through a Multiconductor Transmission Line Without Crosstalk or Return Loss: Theory and Simulation", IET Microwaves, Antennas & Propagation, July 2015
V. Vulfin, S. Sayfan-Altman, and R. Shavit, "Design of Artificial Periodic Absorbers for L-Band", IEEE / Israel EMC Conference, Apr. 2015
V. Vulfin and R. Shavit, "Constitutive Parameters Extraction for Thin Two-Dimensional Cylinders Based on Scattering Field Measurements", Microwaves, Antennas & Propagation, IET, Apr. 2015, vol. 9, Issue 6, pp. 585 – 592
V. Vulfin, S. Sayfan-Altman, and R. Shavit, "Design of a Broadband Periodic Absorber for Microwave Frequencies", IEEE Conference – 28th Convention, Eilat, Israel, Dec. 2014
V. Vulfin, S. Sayfan-Altman, and M. Haridim, "Designing High-Speed Signal Distribution for Multi-Drop Connection Using Simulations", IEEE Conference – 28th Convention, Eilat, Israel, Dec. 2014
R. Ianconescu and V. Vulfin, "Simulation of a Crosstalk Avoiding Algorithm in Multi-Conductor", IEEE Conference – 28th Convention, Eilat, Israel, Dec. 2014
V. Vulfin and S. Sayfan-Altman, "PCB EMI Simulation", IEEE Conference – 28th Convention, Eilat, Israel, Dec. 2014
V. Vulfin and S. Sayfan-Altman, "Design of Electrically Small Antennas with Decoupling Network for MIMO Communication", GlobeSpace – EMC & SI PI Symposium, Tel Aviv, Israel, Nov. 2014
V. Vulfin and S. Sayfan-Altman, "Simulation and Design for CEI-28G PCB Compliance", GlobeSpace – EMC & SI PI Symposium, Tel Aviv, Israel, Nov. 2014
V. Vulfin and R. Shavit, "Superscattering in 2D Cylindrical Structures", APS/URSI Conference, Memphis, USA, July 2014
V. Vulfin, "Design of Antennas and Microwave Devices Using Periodic Structures", IEEE / Israel EMC Conference, Radio Systems Session, Feb. 2014
V. Vulfin and R. Shavit, "Monostatic Superscattering in Cylindrical Structures", IEEE COMCAS Conference, Tel Aviv, Israel, Nov. 2013
V. Vulfin and R. Shavit, "Constitutive Parameters Extraction in a Cylindrical Structures", IEEE Conference, Orlando, July 2013
V. Vulfin and R. Shavit, "Constitutive Parameters Extraction in a Curved Metamaterial Structure", IEEE Conference – 27th Convention, Eilat, Israel, Nov. 2012
V. Vulfin and R. Shavit, "A Dual-Band Bat – Shaped Microstrip Antenna", IEEE Conference – 27th Convention, Eilat, Nov. 2012
V. Vulfin, M. Haridim, O. Benisho, G. Malul, and S. Tapuchi, "Directive Fractal Antenna for Scanning Applications", IEEE Conference – 27th Convention, Eilat, Israel, Nov. 2012
V. Vulfin, M. Haridim, T. Ryabov, E. Ginzburg, and S. Goldberg, "Use of Split Ring Resonators for Reducing Antennas' Mutual Coupling", IEEE COMCAS Conference, Tel Aviv, Israel, Nov. 2011
V. Vulfin, M. Haridim, S. Goldberg, S. Tapuchi and J. Gavan, "Design of Microstrip Antenna Array for 77 GHz Anticollision Radar Applications", SEEEI Conference, Eilat, Israel, Dec. 2008
J. Gavan, S. Tapuchi and V. Vulfin, "Low Interference Wideband Wireless Systems Using High Altitude Platforms", URSI Conference, Chicago, Illinois, USA, Aug. 2008
M. Haridim, M. Bank and V. Vulfin, "Investigation of the Impact of Pilot Signals on the Performance of OFDMA Systems", International Journal of Applied Mathematics, vol. 1, Nov. 2007
Y. Ben-Ezra, U. Mahlab, B. Lembrikov, and V. Vulfin, "Analysis and Identification of FastTransients in Optical Networks", Transparent Optical Networks, ICTON '07. 9th International Conference, Jul. 2007, vol. 1, pp.309-312